---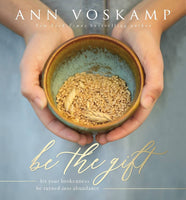 About the Book
Did you know that your brokenness could be a gift Be the Gift, by New York Times bestselling author Ann Voskamp, will challenge and encourage you to listen to God and look for opportunities to be His gift to others.
Ann Voskamp's Be the Gift will teach you:
Even in the depths of your brokenness, God can use you to be a gift to someone else
That our lives become more abundant by giving forward
How to put your brokenness into action and bless those around you each day of the year
Be the Gift is a gorgeous book and will be an incredible gift to any loved one. It includes:
Beautifully designed quotations and inspirational verses
Ann's signature photography
A lovely ribbon marker to bookmark your reading
Perforated gift tags in the back to include with a meal dropped off for an ailing friend, a pie baked for a friendly neighbor, or even passed to a friend with a much-loved book
Be the Gift will unpack and chronicle your steps to living in communion--opening ourselves up to givenness in spite of our brokenness.