---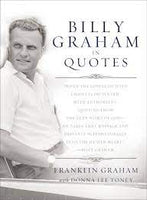 About the Book
God Speaks His Word Straight Into The Hearts Of Men And Women. The Word Of God Is Alive And Active Today In The Lives Of Millions.
With the Gospel of the Lord Jesus Christ as his singular focus, Billy Graham faithfully, passionately, and unapologetically preached God's Word for more than seventy years. At the age of ninety-two, during an exclusive Fox News interview in 2010, Dr. Graham told Greta van Susteren, "I have a tremendous amount of hope for the future because of Jesus Christ."
In this stunning collection of quotes by Billy Graham comes a historic anthology covering seven decades of ministry, drawing from both his published and personal works. These pages are filled with hope, truth, and redemption and seek the hearts of a lost people who need God now more than ever.
Today we are putting our hopes in materialism, in technological progress, and in freedom from moral absolutes. They have all failed. They have failed because they have been powerless to change the human heart.
Join Billy Graham as he seeks to bring God's Word to the heart of daily life. Reconnect and be drawn like never before. "Hearing Billy Graham express hope for the world gives me hope that my life can be worthwhile," comments one twenty-two-year-old. Arranged topically for easy reference, Billy Graham in Quotes provides insight on more than one hundred topics anchored in Scripture. This gifted evangelist takes the focus off of the messenger and shines the Light on the Message of God's Word.
Earth's troubles fade in the light of heaven's hope.