---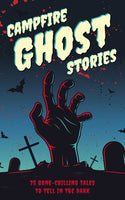 About the Book
All who enter here, beware! These legends, myths, and terrifying tales are perfect for sitting around the campfire, and are sure to send your heart racing. This goosebump-raising collection includes werewolves, vampires, Bigfoot, deadly fairies, banshees, vanishing hitchhikers, mysterious graveyards, Slender Man, and more.
Perfect for reading aloud
Haunt and delight readers of all ages
Create amazing memories around the campfire
Encourage imagination and the sharing of stories
With ghoulish illustrations bringing these supernatural stories to life, you might think twice before turning off the flashlight. Prepare for a sleepless night with Campfire Ghost Stories. Don't say we didn't warn you!