---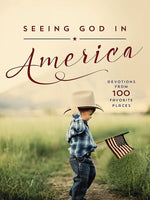 About the Book
Where is your favorite place in America?
Whether hiking a rocky trail up Mt. McKinley, feeling the misty spray of Niagra Falls, scanning the colorful bluebonnet fields in Texas, or smelling the sweet summer roses of Savannah, America is full of beautiful and exciting places to see and experience.
Spanning our country's fifty states, here are 100 favorite places to visit and see up close the miraculous work of God as well as man-made masterpieces. Beautiful photography of each location is accompanied by a short devotion and prayer, nurturing gratitude and peace so often lost in the busyness of life.
Perhaps some places will be familiar, bringing renewed excitement from that first visit. But, no doubt, there are new and exciting places not yet seen or even heard of, prompting next year's vacation destination with new explorations.
If you love to travel or dream of traveling, this devotional will take you to places grand or quaint, serene or adventurous. In every corner of America, you can find the handiwork of our amazing and creative God.