---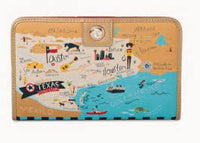 Cards, cards, so many cards and not enough places to put them. Help is on the way! With 15 card slots, this is a snap!
Whether it is the plains of Texas, shores of Florida, or streets of Charleston, our Greetings From collection continues to travel even further this season. Our cute and colorful illustrations of even more dreamy destinations appear on bags, beach towels and our new 18KT gold plated charm necklaces! So, where shall we go, love?
Looking for Southern comfort? Then look to the cobblestone streets and soul soothing steeples of our beloved Charleston. Hop a carriage ride to historic Rainbow Row or mosey through the Gibbes Museum of Art. Breathe in the plantation magnolias, salute the Citadel and take home a sweetgrass basket from City Market. And when you get to the Pineapple Fountain, go ahead, snap a selfie as a souvenir of the abundant local Southern hospitality.
FINAL SALE