---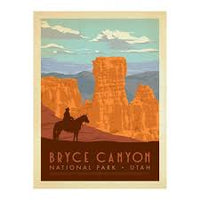 Sale
Bryce Canyon National Park is home to the hoodoos. These unique rock formations tower over the landscape, crafted by the impartial hands of water, wind, and time. Featured in this puzzle is a glowing display of the Thor's Hammer hoodoo, illustrated by Anderson Design Group in a timeless, early 20th-century style. With an unwavering commitment to classic illustration and to America's greatest natural treasures, Anderson Design Group has created a master poster series of all 60 national parks.
True South puzzles are made with 80-point blue board, which creates a thicker puzzle piece with a more solid "hand."
All of our puzzles are stamped with metal dies made by one of the few artists in the world who creates jigsaw puzzle die masters by hand.
Puzzle images are created in a collaborative effort between artists and True South to highlight unique facts carefully researched about each location. Fun facts are listed on the back and inner sides of boxes.